What is cross-browser compatibility?
Before proceeding with how to build cross-browser compatibility, it is essential to understand what it is. A web page is set to be cross-browser compatible when it looks the same on different browsers and their varying versions. Most of the time, it is confused with multiple browser compatibility. Whereas the multiple browser compatibility is associated with the fine functioning of a web page on different browsers, cross-browser compatibility is how a web page looks all same on multiple browsers and their versions.
Some of the common web browsers are Google chrome, internet explorer, Firefox, Safari, UC browser and many more. With the valued web development services India, you can build your website or app compatible with multiple browsers at the same time.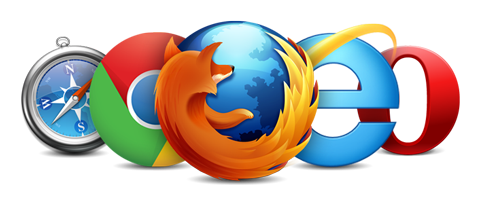 The different browsers feature different java scripting, HTML markup language and CSS too. While some distinctions are caste superficially, other can break the web page. The browsers are then updated with the implementation of "enhancements" as per the W3C standards of their respective formats and hence the scenario becomes more complex.
Also, different operating systems of different computers have their own distinctive way of displaying graphics and text matter. The business houses have no say in directing the user to use any specific version of the operating system or web browser.
How Website Design and Development Company Helps in Building Cross-Browser Compatibility?
Even the best of web design services in India cannot ensure the absolute scalability with all the web browsers. But thanks to expert web design and development services can help you in building cross-browser compatibility. The professional website designers and developers can create web pages using advanced formats and programming that they are compatible with the all the popular web browsers and different versions.
Hence it is advised to avail the web application development services from experts to ensure the whole coding and programming is flawless in alignment to W3C standard.
Suggested Tools by Expert Web Development Services Company to Test Cross-Browser Compatibility
There are several tools you can use for testing the cross-browser compatibility. These tools will help you in testing throughout different types of browsers and their versions.
Browser Shots, the tool that captures the screenshots of the website in different browsers, DOTMOBI Virtual developer Lab that can help you with checking websites on real devices are some of the popular choices of free cross browser testing tools. Some other popular tools are Sauce Labs, browser photo, cloud testing and many more.
Cross-browser Compatibility is not just another "enhanced Feature" of any website. As per the trending framework, it has become more of a "quintessential". You don't have a say in the choice or the preference of the browser, the version or the operating system or in devices of users. The best you can do is to avail best web application development services for creating a website or application compatible to all browsers.
A user will not blame his browser or operating system; he will blame the website for not being compatible enough for his browser or device. Hence cross-browser compatibility is more of an essential for survival in the digital world.